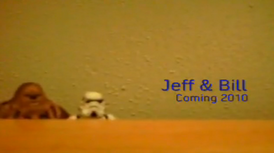 Jeff & Bill is an online web series created by DrPlagas that consists of two Star wars figuirines in a daily routine of playing video games. The show was a parody of the machinima series "Arby 'n' the Chief" directed and written by Jon CJG. It was announced on November 17, 2009 and premiered on November 28th.
The series's basic ideal is about two star wars figurines with an owner by the name of Cole. Like Arby 'n' the Chief, both shows use the same elements such as use of profanity, puppeteering and Halo 3 machinima. The show also relies on keeping it steady and balanced to the original Arby 'n' the Chief episodes as a sort of acknowledgement. However, this strategy was proclaimed as unoriginal by many ANTC fans and that the creator should move the storyline to a new direction. This idea was implemented to the third episode, "Fallout."
Characters
Edit
Jeff-an egostical stormtrooper action figure with a very pompous attitude. He is the equivalent to Master Chief.
Bill-a mellow smart-guy who just loves to always be right. He is the equivalent to Arbiter.
Special Appearances
Edit
Master Chief from Arby 'n' the Chief has made an appearance in the episode "Fallout Part 2." However, in the show it has been compromised that Chief has an alter-ego, becoming a serious individual who takes business in a serious matter and doesn't like to be fooled around.
Jon CJG also makes a brief appearance after the credits in "Fallout Part 2." He is only seen in Halo 3 form.
The series was eventually cancelled, later announced that it was in a hiatus, until recently Season 2 is to be announced.